Well, I'm back.
Before I start this….is anyone listening?? It's been so long I feel like I'm in an underground bunker, desperately manning the radio and sending out Morse code, hoping someone else survived the global nuclear meltdown.
My last post was – good golly – on Oct 31st, appropritaly titled "I only come out during Halloween at midnight", because at the rate I was going, you might not have heard from me until Halloween 2022.
Why the announced hiatus? Did NaNoWriMo utterly destroy me? Maybe. Did I get eaten by the Abdominal Snowman? No, but I did eat a monster's worth of food over Christmas. I guess I'll just chalk up my absence to November and December being really crazy and busy, because that's the simplest way to go about it, and do you really want to read an in depth saga of my life? No? I didn't think so.
The point is I'm back. And it's 2022.
2021 was not the best of years (though I keep reminding myself of all the funs things that happened so it's not the worst year ever), but 2022…..started off rather poorly. But there are still t-minus 361 days for good things to happen.
I shrink from doing an epic wrap up of this year (like my 2020 wrap up post), because at the moment, it seems terribly overwhelming. So perhaps we should just go with what's important.
Such as, since I'm back on the blog, what is the plan?
The plan is two post once a week (either Wednesday or Saturday's like usual) (please note that I will not be posting next week because of a previous engagement), and I will be actually doing some strategizing (meaning I am planning out my posts).
So look forward to this year for consistent content from me (though don't expect anything from instagram, unless it's my Etsy account).
But the heck of it, I'll do a quick wrap up of my life, like usual:
READING
I recently finished The Girl From Shadow Springs by Ellie Cypher and really enjoyed it. I got a ginormous stack of books for Christmas, and am happily (and slowly) diving into those now.
WRITING
Editing, editing, editing, editing. Do you need to know anything else?
Oh, and I did succeed in reaching 50k for NaNoWriMo, though I finished hanging on by tooth and nail.
LIFE
My Etsy shop is coming along splendidly. Shameless self plug: I make really cute fairies and you need some in your life? Right? https://www.etsy.com/shop/fifteenmagpielane/
And uh…..I got a tea kettle for Christmas??? (Now I can finally make tea on the stove instead of in the microwave like a heathen).
And that's about it. It's not that there isn't a lot going on, it's that in many ways there are too many things going on. And at the same time nothing is going on. It's complicated.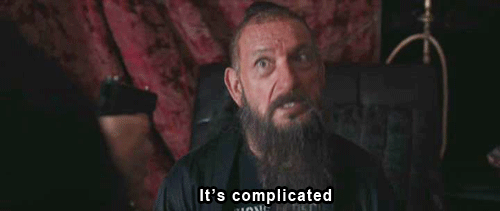 But we're not going to get into all that, you know why? Because I don't want to.
I'm happy to be back on the blog to talk about writing and books and stories and dragons or whatever. Back to talk about art and drinking tea while watching a pale, winter sunset. Back to typing in the white box that WordPress offers as a medium to create.
That's the point. I'm back, and you'll see more of me soon.